THE ARCHIVE OF THE
OPERA CAMPANA DEI CADUTI FOUNDATION

The substantial Archive of the Opera Campana dei Caduti Foundation occupies two recently refurbished rooms and has enormous historical and documentary value: the archive constitutes the historical memory of more than eighty years of national and international events from the perspective of promoting peace and brotherhood between peoples. It is organised into four collections:
Photographic collection:in seventy volumes, this section gathers the vast wealth of photographic documentation that bears witness to the story of the Bell and the national and international events events promoted by the Foundation between 1924 and the present day.Particularly valuable are the photographs relating to international meetings of Religions for Peace and Mayors for Peace, and those covering the visits of government delegations from countries which have endorsed the founding principles of the Bell of the Fallen and donated their national flags.
Video collection: this includes master tapes, VHS and DVDs containing videos of the Bell produced by local or national TV channels or by the Foundation itself. These document the events that punctuate the Foundation's activities: visits from foreign delegations, video catalogues of exhibitions held in the Foundation's headquarters, book presentations and cultural events, the RAI broadcast in Mondo Vision of the ringing of Maria Dolens for the Angelus on 1 January 2006, international conferences and gatherings of foreign institutions ("Memorandum di Pace").
Press collection: this contains 84 volumes of local, national and international press coverage of events concerning the Bell of the Fallen, encompassing the time period between 1925 and the present.
Historical-documentary collection: : this is the most extensive section of the Archive, and extremely important in that it constitutes the historical memoir of the Bell of the Fallen alongside that of the city of Rovereto itself and the national and international context in the years from the First World War to the present day. Of particular interest are the series pertaining to correspondence, events held with the Bell as focus, relations with the European and extra-European countries which adhere to the project and to the educational, seminar and promotional initiatives of the International University of People's Institutions for Peace.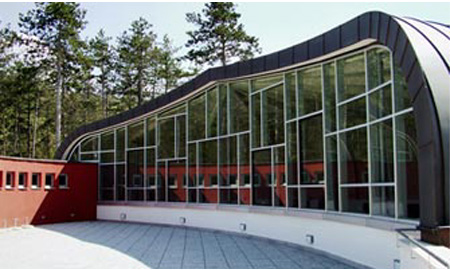 INTERNATIONAL UNIVERSITY OF PEOPLE'S INSTITUTIONS FOR PEACE (IUPIP)Archive contributor: Opera Campana dei Caduti, Rovereto (1922-); IUPIP (1993-2007)
Time period covered: 1984-2008, with documentation from 1961
Content: documentation regarding the educational and cultural activities of the International University of People's Institutions for Peace (IUPIP) of Rovereto (1993-2007) on topics of peace, non-violence, human rights and sustainable economic development at the global level.
The project was executed with the Museo Storico del Trentino Foundation, and funded by the CARITROFoundation.