Meanwhile, in his Trento studio, the sculptor Stefano Zuech was working on the enormous plaster cast of the Bell, which measured 2.7 metres high and 2.6 metres in diameter, to create its decoration by meticulously and precisely modelling the individual figures that would constitute the bas-relief.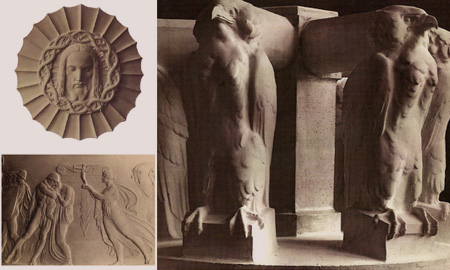 Initially the artwork for the bas-relief - the mould for which is today preserved in the War Museum in Rovereto - featured the engraved words of the Canzone del Piave around the lower edge of the bell, above a pattern of slightly Byzantine stylised waves, in remembrance of those killed at sea; in the central section the outlines of mountain ranges such as the Adamello, Baldo, Zugna and Ortigara, for those who died on land, and at the top, the wings of aeroplanes to remember the heroes of the air. However, as the work advanced, Zuech, with the agreement of Don Rossaro, radically changed this initial idea and replaced it with a series of highly effective and moving motifs. On the headstock were six eagles, forming a circle and each holding a steel belt to fix the bell to its support.
At the centre of the bell's upper section was the suffering face of the Ecce Homo, the symbol of humankind tormented and glorified. At the same level, on either side there were two aeroplanes to evoke the victims of the air and, on the other side, a design of intertwined palms indicated glory and peace. These decorations were linked to the words: "DORMITE IN UMBRA NOCTIS, LAETAMINI IN LUMINE CHRISTI, DUM AERE JUNGO POPOLUS ET VESTRAS LEUDES CELEBRO" (Sleep in the shadow of the night, rejoice in the light of Christ, while with bronze I unite peoples and celebrate your glory).
Finally, the upper part of the bell bore the name of the smelter: "Alojsius Colbacchini eiusque filii pro patria mortuis plaudentes funderunt".
Turning to the figurative groups on the lower part of the bell, these depicted the allegory of humankind, protagonist of the Great War, consisting of thirty-two figures each 60 cm tall and divided into four groups: Departure, Battle, Death and Victory
Below these groups, at the base of the bell, the sculptor's original idea of the band of waves to symbolise the sea ran the entire circumference. The starting point for the reading of the bas-relief was the herm below the Ecce Homo, inscribed at the centre of a palm leaf, with the dates 1914-1918, the start and end of the First World War.