Like the second Bell, the third was a version of the previous one, which was broken into pieces on its arrival at the Capanni Foundry in May 1961. And while in Rovereto controversy arose about its future placement, the calm and silent work of the smelters proceeded slowly but surely. The foundry was visited several times by the Rovereto authorities: an initial visit when the second Maria Dolens was still in one piece, again when the mould was ready and the bas-reliefs were being added, and finally on the day of the casting, which came at last on 1° October 1964. On that day, 27 tonnes of molten metal - that of the previous Bell with more added - were poured into the mould at a temperature of 1,230 degrees. Besides the Rovereto authorities and the Regency, those present included leading figures from the Lions Club, which had funded the casting, and several journalists from newspapers and TV.
"At 11:40", Adriano De Biasi wrote in "L'Adige", "...the pouring...Just one word: 'Open!'
and two torrents of roaring, unstoppable fire made their short forced journeys; boiling and spitting they plunged into the narrow opening where, after a drop of three metres, they made their powerful invasion of the mould, held tight in its vice of earth. An unforgettable quarter of an hour. Then only the torrid, unbreathable heat; and silence. The new Maria Dolens, which would be the largest swinging bell in the world, was born".
Only a fragment of the previous Bell remained unsmelted: the section bearing the face of the Madonna, which was placed on a stone plaque and subsequently positioned on the east facade of the S Giusto bell tower in Trieste, inaugurated on 1° May 1967at the behest of the Trieste Lions Club.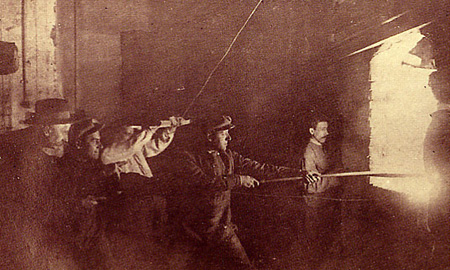 IDENTITY DOCUMENT OF THE BELL

Casting: 1 October 1964 Capanni Foundry - Reggio Emilia

Consecration: 31 October 1965, Rome
Arrival in Rovereto: 3 November 1965

First ringing: 10 April 1966, Easter Sunday
Inauguration: 28 May 1966

Weight: 22.639 tonnes
Height: 3.36 metres
Diameter: 3.21 metres
Clapper: 600 kilos
Headstock: 10.3 tonnes