Antonio Rossaro was born in Rovereto on 8 June 1883 to parents Giuseppe and Giovanna Marini. After completing primary school, he went to the boarding school of the Fathers of St Joseph in Volvera (Turin), to pursue his early vocation for the priesthood, nourished particularly in his family and town, where the figure of Antonio Rosmini was admired and venerated. Several years later he moved to the seminary at Rovigo, where he completed his studies and was ordained on 1 April 1911. He did not return to Trentino, because he had already developed clear nationalist and anti-Austrian views. He taught at the Angelo Custode boarding school in Rovigo and the high school of the same name, and meanwhile became known by a wider audience for his literature and poetry, abounding in intense patriotic feeling.

When the First World War broke out, his propaganda against Italian neutrality became increasingly intense. Following Italian involvement in the war, he embarked on the major task of assisting Trentino refugees in the Polesine region; this did not, however, curtail his activities as a fervent patriot, which led him to take a leading role in various initiatives to tell the rest of Italy about the situation in Trentino. One of these initiatives was the newspaper Alba Trentina, founded in January 1917, which played an extremely important and unique role in Trentino culture right up to the postwar period. Because of these activities, in 1916 the Austrian government ordered the confiscation of his property in Rovereto, and the following year issued a warrant for his arrest for high treason.
After the war, Don Rossaro contributed to a vast network of material assistance for the people of Trentino. The first caravan of foodstuffs and clothing to arrive in Rovereto actually came from Rovigo, and was organised by the priest.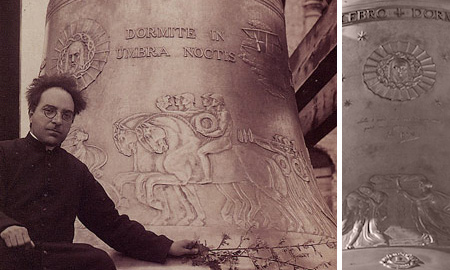 In 1920 he moved to Milan, where he taught in a high school until in 1921 the Municipality of Rovereto invited him for run the civic library, which was refurbished and opened to the public after many months of work. Until his death 30 years later, Don Rossaro was responsible for the library, which he ran with love and intelligence, enriching the collection with numerous donations. In Rovereto, he was a passionate collector of patriotic memories in the form of historical and literary texts, as well as various scheme intended to celebrate and remind posterity of the most significant and heroic figures in Trentino irredentism. In this aspect Don Rossaro differed from the Trentino clergy of the early twentieth century, who were mostly adherents of social catholicism. His views, on the other hand, were strongly nationalist, closer to Garibaldi's revolutionary Risorgimento politics than the liberalism - albeit unusual in Trentino - of the Abbot Giovanni Battista in Prato.
In agreement with other Rovereto patriots and men of culture, in 1921 Don Rossaro founded the Historical Italian War Museum, and in the same year conceived the idea of the Bell of the Fallen , which came into being in 1925, after numerous obstacles and misunderstandings.
His nationalism turned into a feeling of respect for every nationality and brotherly love for those who had given their lives for their country, which he considered one of the highest ideals of human existence.
For this reason, the ringing every evening of the great Bell of Rovereto must commemorate this sacrifice and call new generations to brotherhood and peace. Because of his merits as a man of culture (his bibliography consists of almost 400 works, both published and unpublished) and his tireless work as curator of patriotic memory, Don Rossaro was invited to join cultural institutions and received important honours within Italy and overseas.
Following two painful surgical interventions, he died in Rovereto on 4 January 1952.