ART AND PEACE
Painting one war is like having painted them all. Especially if you are Picasso.
When the Nazis of the Condor Legion and the fascists of the Italian Legionary Air Force launched Operation Rügen they thought they would be remembered as heroes in the history books. Instead, the bombing of Guernica, which was razed to the ground on April 26, 1937 during the Spanish Civil War, is referred to mainly in lessons on twentieth century art. The tragedy shocked Picasso. For two months the artist worked frantically and came away at the end of this time with the creation of the masterpiece that bears the name of the destroyed city. The same year the work was shown to the world from the Spanish pavilion of the "Exposition Universelle de Paris", the Paris World Fair. Since then, that oil on canvas covering 271.266 square centimeters has become a cry of pain against all wars. This is how art works, in that the detail serves to illuminate the universal.
If Guernica represents and condemns all conflicts, Vasco Gargalo must have thought then that he might help us even today. This is why the Portuguese illustrator, class of 1977, decided to create Alepponica, a piece in which the original figures have been modified to make room for faces and symbols of the conflict in Syria. Therefore, the woman on the run becomes a migrant trying to reach Europe while the horse, which originally represented the Spanish people, has the flag of the United States on its coat. Ghosts become presidents in office and candles become sticks of dynamite. A hand holds a rifle to pay homage to the resistance of the city of Aleppo while the bull, which symbolized fascism, now has the appearance of a long-lived head of state.
Everything has changed except the horror of the war. Even the language has remained the same: direct, clear and immediate, exactly as it should be in a message that is addressed to all. The style is that of Picasso, one of the few in the twentieth century to have been comprehensible without ever falling into banality. Talent was innate, of course, but some things are won over time. Before becoming an artist he was just very good. He told us: "It took me four years to paint like Raphael, but a lifetime to paint like a child".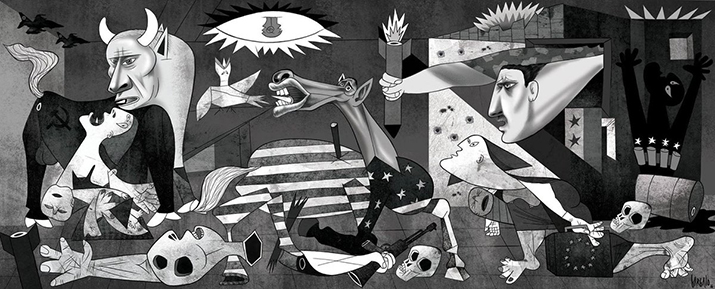 Vasco Gargalo, "Alepponica"