HAPPENING AT THE COUNCIL OF EUROPE
The Council of Europe is a fundamental part of the collective effort to face global challenges. This is the starting point of the speech that the Undersecretary to the Ministry of Foreign Affairs and International Cooperation Benedetto Della Vedova made on 25 January in front of the Parliamentary Assembly in Strasbourg, illustrating the salient points of the initiatives promoted by the Italian Presidency inaugurated on 17 November last. The Council of Europe, he reiterated, represents «the continental emblem of the protection of human rights and fundamental freedoms and the expression of a multilateral vocation in which Italy fully recognizes itself». It is important, he continued, to converge on a common project that guides the commitment and work of each of the Member States in the right direction. The meeting of foreign ministers which will conclude the term of office on 20 May next in Turin could also serve this purpose.
It is necessary to relaunch the common values and principles that were at the basis of the decision to join the organization
In these three months, Rome has never ceased to emphasize the need for a renewed concrete and cohesive commitment in order to relaunch the common values and principles that were the basis of the decision to join the organization. The aim is to build a «a "people-friendly" future» and to achieve this the Italian Presidency is focusing on the promotion of women's rights, the fight against gender-based violence, children's rights, youth policies and the protection of cultural heritage.
Special attention is also paid to the impact of Artificial Intelligence on human rights, democracy and the rule of law. «We expect that in May it will be possible to reach an agreement to define the field of action of the Council of Europe on this central issue for our future. Not to limit development, but to ensure that it declines in terms that respect human rights», said the undersecretary, highlighting that «a mix of non-binding and binding instruments seems the most appropriate solution and in line with the orientation of the membership». Already in May, on the occasion of the ministerial meeting, «the start of negotiations for the definition of an appropriate transversal regulatory instrument» could be announced.
Strasbourg represents «the continental emblem of the protection of human rights and fundamental freedoms»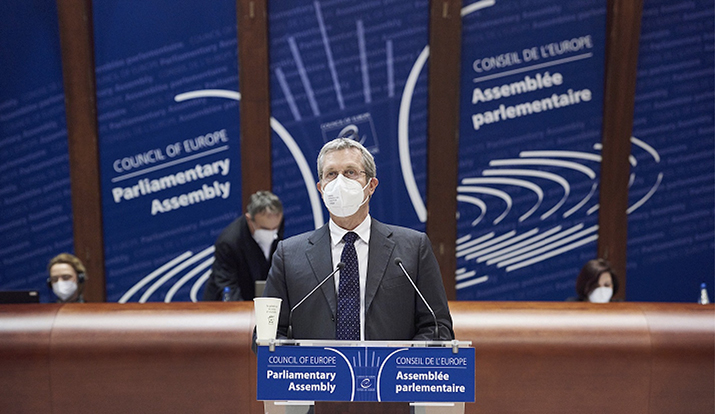 Undersecretary Benedetto Della Vedova during his speech at the Parliamentary Assembly