The fact that the Nobel Peace Prize went to two journalists is bad news. It would have been much better if there had been no need for it. Instead, there are still places where writing what you think is an act of courage. At least now no one can say they don't know what's going on.
The Filipino-American Maria Ressa and the Russian Dmitry Muratov, who received the Prize, are not the only ones fighting in their countries to defend freedom of expression, a precondition for democracy, but from now on they represent all those who do so. Perhaps they are afraid, they are certainly at risk, and the threats they have received are significant and persistent. Now they are so much in the spotlight that it will be harder to hit them. In the world, however, there are many colleagues in their shoes, their names are not well known, and the better they do their job the less they show themselves, because the role of information is to put facts at the center of attention not the person telling them.
This is also why Muratov chose to dedicate the award to his newspaper, Novaya Gazeta, and to the six reporters killed for having his same merits. He would have preferred that Alexey Navalny, the Kremlin opponent currently in prison, had been chosen instead of him. But saying this in an interview released as soon as he learned of the Oslo decision put things in perspective and sent a clear signal.
The recognition of Maria Ressa is also emblematic from this point of view. The Filipino-American journalist is co-founder of the news site Rappler, which has reached 4.5 million followers on Facebook since 2012. In this online newspaper you can read the only critical inquiries against President Rodrigo Duterte produced in the Philippines. These insights into the human rights violations and corruption have cost the reporter numerous trials and a conviction for libel, for which she risks up to six years in prison. The reason given for the award is that, Ressa used freedom of expression to "unmask the abuse of power, the use of violence and the growing authoritarianism in her native country".
The Nobel Prize for the two journalists was unanimously applauded by both the European Union and the United Nations. For "Reporters Without Borders", which for years has condemned the repression of press freedom in various geographical areas, the Award is equivalent to "a call to mobilize, to defend journalism". Fortunately, there are courageous journalists, too bad we need them.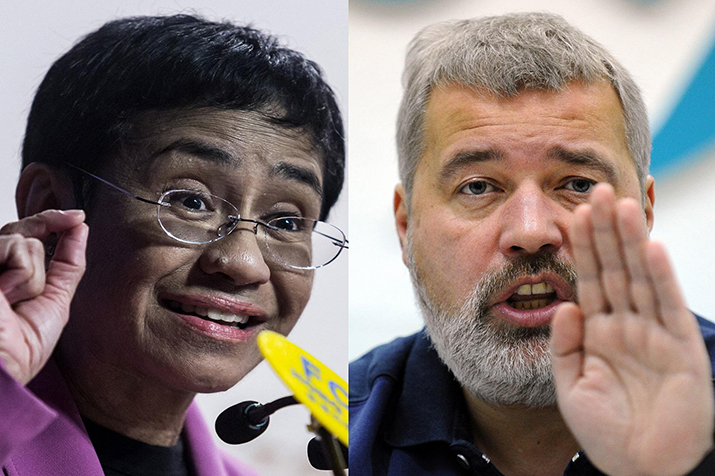 The Filipina Maria Ressa and the Russian Dimitry Muratov symbol of those fighting to defend freedom of expression