HAPPENING AT THE COUNCIL OF EUROPE
THE VÁCLAV HAVEL HUMAN RIGHTS PRIZE AWARDED TO VLADIMIR KARA-MURZA
He is accused of having betrayed his country. He claims he loves his country. That's the story. Where does love end and betrayal begin? There are several schools of thought in Russia at this time in history. For example, President Vladimir Putin considers it legitimate, for the sake of the motherland, to nip any opposition in the bud, to limit or repress the freedom of the press and to organize elections in which he invariably wins. Vladimir Kara-Murza, one of the opposition leaders currently imprisoned, instead believes that loving one's country consists in criticizing an authoritarian government and founding an anti-war committee together with others to counter the invasion of Ukraine. However, this is not just a difference of opinion, since Putin, in upholding his ideas, continues to be president while Kara-Murza goes to prison and risks over twenty years of imprisonment, all this after having suffered several attempts of poisoning.
There may be different ideas regarding the policies to be taken, but when a choice cannot be criticized publicly it automatically slips into authoritarianism.
Also, for this reason, the Parliamentary Assembly of the Council of Europe (PACE) awarded the 10th Václav Havel Human Rights Prize to the Russian dissident. The award was presented during a ceremony organized on the opening day of its autumn plenary session in Strasbourg. Upon receiving it, Kara-Murza's wife, Yevgeniya, declared that she «couldn't be prouder» of her husband, who dedicated this victory to the thousands of Russians who had spoken out against the war in Ukraine and who continues to work until «a peaceful, democratic and Putin-free Russia» will one day return to the Council of Europe.
PACE President Tiny Kox, who chaired the selection panel, stressed that «despite the risks, Vladimir Kara-Murza had the courage to return to his country to carry on his fight, even while having the possibility to stay safe. (…) It takes incredible courage in today's Russia to stand against the power in place. Today, Mr Kara-Murza is showing this courage, from his prison cell».
Vladimir Kara-Murza is doing something important, risking his life for an idea of freedom. But he is not the only one, and the precise purpose of the Václav Havel Human Rights Prize is to direct the spotlight onto the stories of figures in order to honour «outstanding civil society action in defence of human rights in Europe and beyond». In recent years, the recognition has been awarded in turn to Belarusian opposition leader Maria Kalesnikava (2021), Saudi women's rights activist Loujain Alhathloul (2020), jointly with Ilham Tohti and the Youth Initiative for Human Rights (2019), Oyub Titiev (2018), Murat Arslan (2017), Nadia Murad (2016), Ludmilla Alexeeva (2015), Anar Mammadli (2014) and Ales Bialiatski (2013). None of them can be forgotten.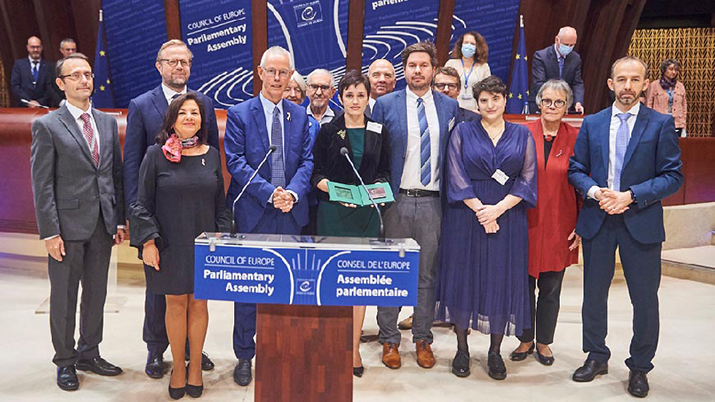 - Kara-Murza's wife Yevgeniya receives her husband's award in Strasbourg