THE ACTIVITY OF THE "STILL I RISE" ASSOCIATION
In a camp designed for 650 people, over 5,000 guests are now welcomed in Samos and in some periods they reach a peak of 7,600. The space has been exhausted for years: people live camped in tents or overcrowded containers. There is never enough food and people wait in line for hours for its distribution. With a shower for every 200 guests and only one doctor for the entire population of the hotspot, health protection is almost non-existent, just as legal and psychological assistance is insufficient. The areas adjacent to the tents are open-air landfills, with the accumulation of waste also due to poor sewerage. The length of a stay can last as much as two years and throughout this period minors do not go to school.
"Still I Rise" was born in order to fill this serious gap in 2018.It is a voluntary association that aims to provide informal education to thousands of vulnerable adolescents, also supporting them through various forms of psycho-social and legal assistance. It is an original model, which the organization is taking to different corners of the world, from Turkey to South America. Guaranteeing a warm reception in the classroom is essential in order to restore value and beauty to the various stages of growth. After a 6-year course of study, students have the opportunity to enter universities around the world. Gender balance and the inclusion of girls in the various training fields are crucial: the selection method guarantees a female presence of 50 percent.
Despite the scarcity of resources, absolute priority is given to the selection of quality programs. The proposed educational model focuses on the creation of a participatory and shared space, aimed at making young people responsible for themselves. It is no coincidence that preventative measures have been implemented to combat bullying. The idea comes from Sarah, Giulia and Nicolò. Between the three of them they don't even make a hundred years. They founded the association 36 months ago and the results are now emerging. Some have thought of nominating them for the Nobel Peace Prize.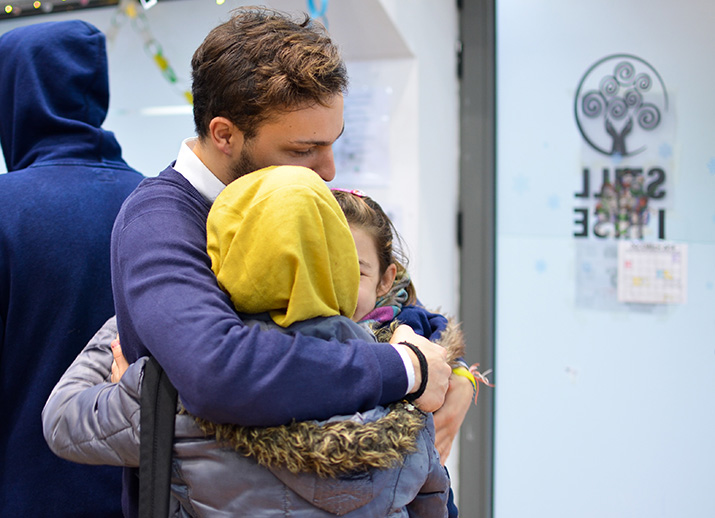 Nicolò Govoni, one of the three founders of Still I Rise, embraces two of his students