FROM THE COUNCIL OF EUROPE
FROM THE FARO CONVENTION TO THE STEPS PROJECT
Why should I care about posterity? What has posterity ever done for me? ». Groucho Marx, like all great humorists, opens up new horizons in lateral thinking. Indeed, preserving the cultural heritage for those who will follow us would seem to be of no immediate use. We don't even know to whom we will leave the things we care about most. If it were a set of well-made objects there would be no reason to try so hard. Everyone builds their churches and amphitheaters as they want. But if we're talking about "resources inherited from the past with which populations identify, regardless of who owns them, as a reflection and expression of their constantly evolving values, beliefs, knowledge and traditions", as the Faro Convention argues, then we may conclude that these artifacts from the past explain who we are. Perhaps we ourselves are "posterity".
Certainly cultural heritage is the fruit of the complex social processes through which people distinguish those things that have a value to be passed on to future generations. And we are not just talking about frescoes, symphonies or domes that have defied gravity for centuries, but about a network of values that reinforce the idea of ​​belonging and community.
"Deciding together, in each community, the things that identify us"
In years of activity, the Council of Europe, also thanks to the Framework Convention on the value of cultural heritage for society which took its name from the Portuguese city in which it was signed, has amply demonstrated that cultural and social activities provide opportunities for interaction between people with different backgrounds that not only improve the pluralistic identity of the community but also strengthen the relationship with the territory. Festivals, events or simple daily recreational experiences and practices promote trust, dialogue and mutual understanding between different societies. For this reason, the European Commission and the Council of Europe have just launched a joint pilot project that has taken the name of STEPS and which aims to encourage and promote a participatory mapping of cultural heritage. It is a process in which community members are assigned the role of identifying those tangible and intangible assets that are a reflection and expression of their ever-changing values, beliefs, knowledge and traditions.
The challenge is to decide together which things should be loaded onto Noah's Ark so that they are not swept away by the storm of time. By negotiating the inventory of assets that have the right to survive between us, we can build a cultural map that constitutes the pluralist identity of the community in which we live. There is no exclusion. In the cardboard boxes of the temporary move you can put intangible objects or values, spades together with traditions, poems or ice skating, organized sounds and improvised recipes, any expression of human creativity: basically what is believed to be significant by those living and working in any given territory. Following this, if we compare our results with those of others, we might realize that our maternal grandmother's recipes could also be of interest to someone who lives far away, perhaps adjusting a little salt.
Too theoretical? There are concrete examples. The cities of Rijeka, Croatia, and Lisbon, Portugal, were chosen in 2017 in order to experiment this methodology. They mapped the shared cultural heritage and demonstrated how an intercultural approach centered on the idea of ​​place can allow a city to open its urban identity to all communities, thus increasing trust, mutual recognition, interaction and ultimately, social cohesion. It seems to work, and there is also the funding to do it.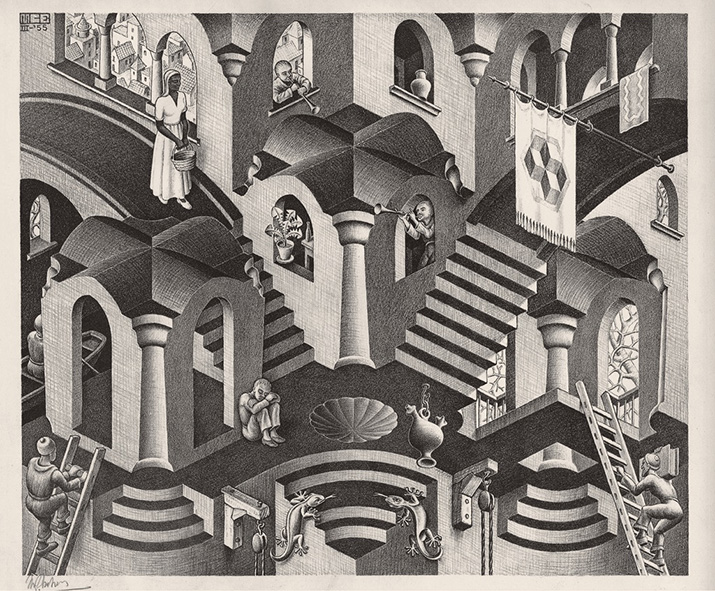 Maurits Cornelis Escher, "Convex and concave" (1955)