CONFERENCE IN VENICE
« Crime and Criminal Justice - The Role of Restorative Justice in Europe». This was the theme of the Conference of Ministers of Justice organized by the Italian Presidency in Venice from 13 to 14 December last. The event - attended by the Italian Minister of Justice, Marta Cartabia, the Secretary General of the Council of Europe (CoE), Marija Pejčinović Burić, the President of the Parliamentary Assembly of the CoE, Rik Daems and the President of the European Commission for Democracy through Law, Gianni Buquicchio - has the goal of advancing the debate in criminal matters based on the analysis of data, not only from European sources, and taking into account the best practical experiences in the Member states.
The intention of the Italian Presidency is to promote ample debate on the current use of restorative justice by the various criminal jurisdictions in Europe and on the obstacles encountered in making it accessible and available at every stage of the criminal proceedings. Rome also presented the «Venice Declaration on the role of restorative justice in criminal matters», anticipating greater application of this resource in the member states of the Council of Europe. The discussion ended with the hope of a wider use of restorative justice as a complement to criminal proceedings, especially in relation to minors. More generally, the experts noted the need for greater dissemination of training on the subject.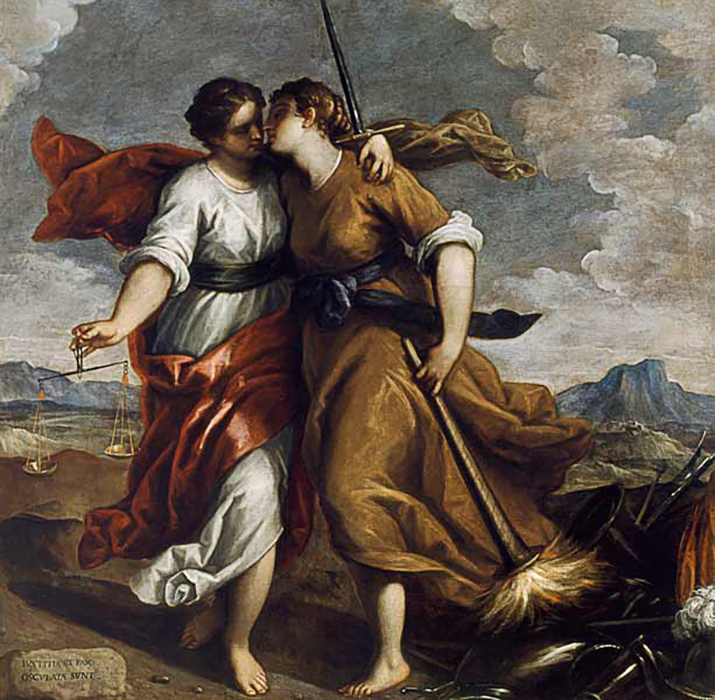 Martin de Vos, «Peace and Justice» (oil on wood, 16th century)