WORLD DAY FOR THE SEVENTY-FIFTH ANNIVERSARY OF THE UN
Two olive branches and a world map on a blue background, the colour of peace. The flag of the United Nations leaves no doubts as to which path to follow. For further indications, reference can be made to the Sustainable Development Goals which, as the Secretary General António Guterres points out, "provide an inspirational guide towards a better recovery". For years, the Peace Bell Foundation has taken these guidelines as a model from which to carry out work that started before the UN even existed, thanks to the intuition of Don Antonio Rossaro who merged the Maria Dolens Peace Bell with the bronze of cannons offered by belligerent powers on opposite fronts during the First World War.
Since then the Bell, in honour of the Fallen, with its hundred daily chimes has commemorated the victims of all wars and reminded the living not to forget the horrors of conflicts, especially those still in progress. It did so on 24 October, by participating in World UN Day which was celebrated on the occasion of the seventy-fifth anniversary of the United Nations. A natural, consequential, desired and due gesture. Maria Dolens turned blue and the Foundation was opened, with free admission, from 6pm to 12am.
Against the backdrop of phrases spoken by Nobel Peace Laureates, those who climbed the Colle di Miravalle hill witnessed projections and readings of various articles from the United Nations Charter and the Universal Declaration of Human Rights. For the occasion, the "Human Rights?" #The Future's Shape. Women will save the world " exhibition remained open, an exposition featuring works by 141 artists from 31 countries. In live streaming from groups of the "Trentini nel Mondo", (Trentino People in the World Association) authentic contributions arrived from Argentina, Paraguay, Brazil, Uruguay, the United States and Belgium. Actual people, with their hearts divided between the land of their ancestors and that of their children, recounted the activity of the "embassies of the Bell in the world". At 9.30 pm on the Facebook page of the Bell the 100 strokes of Peace were shown in live streaming. But that's not enough. Thanks to a proposal launched by the Foundation and immediately adopted by local institutions, it was not only the Bell that was coloured blue, but the whole city of Rovereto, also known as City of the Oak, gathered around the slogan "let's build our future together". It was the first time. Museums remained open with free admission from 6pm until midnight, all together to give life to a special night that is now known as "Rovereto, the culture for peace".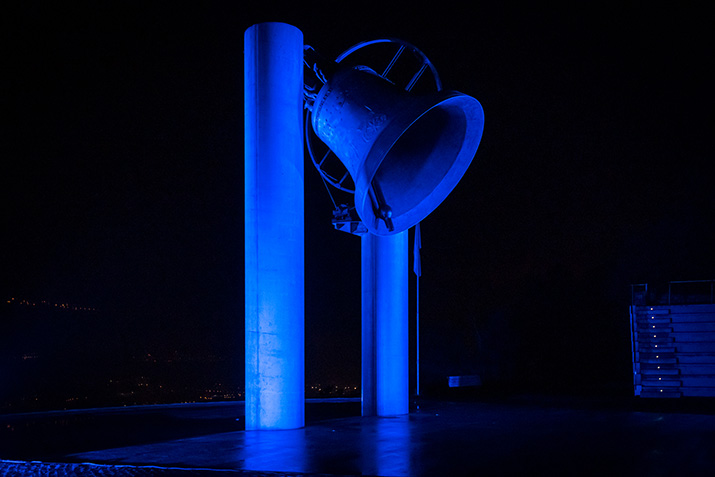 Photo by Graziano Galvan