HAPPENING AT THE COUNCIL OF EUROPE
EUROPEAN DAY AGAINST THE DEATH PENALTY
In the aftermath of the destruction of the Second World War, the Council of Europe, the continent's leading human rights Organisation, was created in 1949 to unite Europe around the shared principles of the rule of law, respect for human rights and democracy. At the heart of the Council of Europe machinery stands the European Convention on Human Rights, serving as a safeguard for all who find themselves on the territory of Europe. The Convention was adopted in 1950. Article 2 states that everyone's life shall be protected.
In September 2007 the Committee of Ministers approved the establishment of a "European Day against the Death Penalty" to be held on 10 October of each year. It constitutes a contribution to the World Day against the Death Penalty - which is held annually on the same day - and aims at continuing to raise awareness of the abolition of capital punishment. Since 2008, the Council of Europe has been organising this annual event conjointly with the European Union.
The Council of Europe has worked intensively to outlaw the death penalty in Europe and has been a pioneer in the abolition process. Since 1989, the abolition of capital punishment has been set as a condition for accession for all new member states. As a result, no executions have taken place in any of its 47 member countries1 since 1997, making Europe a de facto death-penalty-free zone covering over 830 million people. Only Belarus is out of step, and it is the only country across Europe which is not a member of the Council of Europe.
The death penalty is a very emotive issue. It touches some of our deepest instincts, including ideas of revenge, honour, hatred, and fear. The Council of Europe is committed to continuing its fight against this cruel and inhumane punishment.
EUROPE AGAINST THE DEATH PENALTY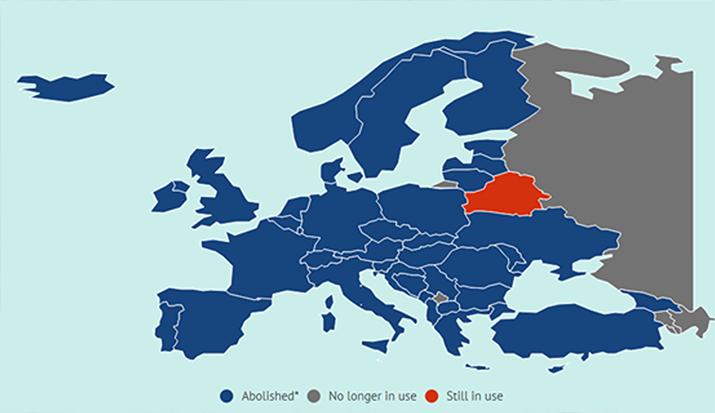 1Albania, Andorra, Armenia, Austria, Azerbaijan, Belgium, Bosnia and Herzegovina, Bulgaria, Croatia, Cyprus, Denmark, Estonia, Finland, France, Georgia, Germany, Greece, Iceland, Ireland, Italy, Latvia, Liechtenstein, Lithuania, Luxembourg, North Macedonia, Malta, Monaco, Montenegro, Norway, Netherlands, Poland, Portugal, United Kingdom, Romania, Russia, Czech Republic, Moldova, Slovak Republic, San Marino, Serbia, Slovenia, Spain, Sweden, Switzerland, Turkey, Ukraine, Hungary.