HAPPENING AT THE UNITED NATIONS
THE REPORT FROM THE OFFICE OF THE HIGH COMMISSIONER FOR HUMAN RIGHTS
«Serious human rights violations» against Uyghurs and «other predominantly Muslim communities» have been committed in what China refers to as the Xinjiang Uyghur Autonomous Region (Xuar). This is claimed not by reports from dissidents in exile but from the Office of the United Nations High Commissioner for Human Rights (OHCHR). The document was published on the last day of office of the United Nations High Commissioner for Human Rights, Michelle Bachelet from Chile, who on September 1 stepped down for the Austrian Volker Türk.
The text is clear: «The allegations of torture or ill-treatment are credible». The OHCHR argues that the extent of arbitrary detentions against Uyghurs and other people «may constitute international crimes, in particular crimes against humanity».
Faced with clear violations of international law, the UN urges the Beijing authorities to take «prompt steps»
The local authorities claim they wish to respond to terrorists of the Uyghur minority with a strategy that involves the use of «Vocational education and training centers»" (VETC), in essence re-education camps. But according to the experts of the UN headquarters there are numerous violations in this context.
According to the report government policy in Xinjiang, in recent years,  «has led to interlocking patterns of severe and undue restrictions on a wide range of human rights». Although the VETC system, as China claims, «has been reduced in scope or wound up», according to the OHCHR, «the laws and policies that underpin it remain in force», leading to widespread use of arbitrary detention.
Faced with blatant violations of international law, the United Nations Human Rights Office urges the Beijing authorities to take «prompt steps» to release all those arbitrarily imprisoned in the region, to inform the detainees' families of where their loved ones are and to help establish «safe channels of communication».
However, the Chinese response does not leave much hope. According to the Beijing government, the authorities of the Xinjiang region operate according to the principle of equality of all before the law, «and the accusation that its policy is" based on discrimination "is groundless».
As often happens, the UN does not seem to have the tools to intervene directly. United Nations spokesman Stéphane Dujarric stated that Secretary General António Guterres «sincerely hopes that the Chinese government will accept the recommendations made in the evaluation», while stressing «the importance of the independence» of the OHCHR. Guterres, Dujarric continued, «appreciates system-wide cooperation between China and the United Nations on a whole range of issues. China is a very valuable partner and we hope that this cooperation will continue».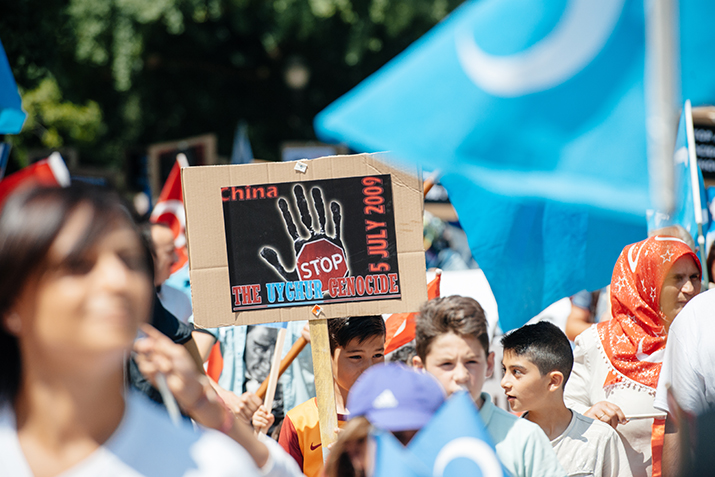 Undersecretary Benedetto Della Vedova during his speech at the Parliamentary Assembly